Who the heck are
GUY & MATT?
The guys who wrote this book are technically animals. But they're the human kind. I know. Weird, huh? Anyway, when Guy was 11, he was a rock-climbing champion, played the clarinet and his favourite milkshake flavour was lime. When Matt was 12, he was a football champion, collected collector cards and ate lasagne for breakfast. Now they write books, TV, films and their kids' assignments, and they still love lime milkshakes and lasagne. They play video games, sport and one day want to put bunk beds in their office so they can have naps after lunch.
Check out more of their stuff and say hello at www.boomshakauniverse.com
Zoo Crew series
By Guy Edmonds and Matt Zeremes & Illustrated by Peter William Popple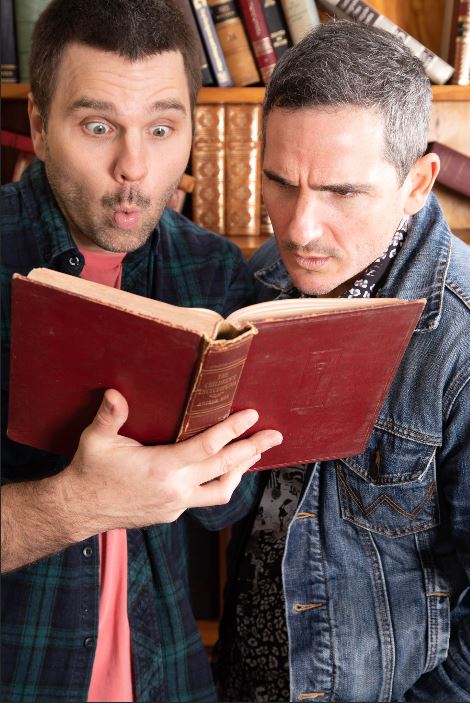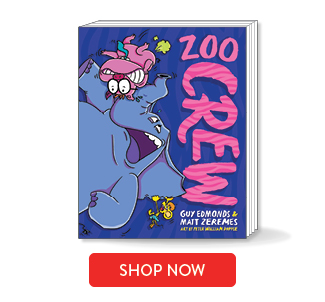 ZOO CREW #1

It's the athletics carnival and Eddie, Mabel and Princeton have to run, throw and jump their guts out so that mean, cheating bully Echo doesn't win the day – again! Can this super cool crew hold in their panic-farts and kick serious butt to outsmart Echo and her sidekicks? Better get your sweatbands on ... It's ready, set, go time!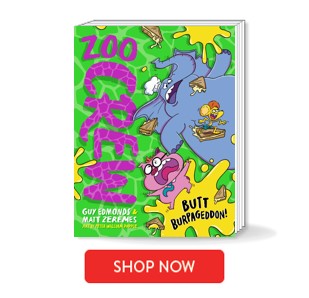 BUTT BURPAGEDDON! (ZOO CREW #2)

At the Zoo Primary Fair, everyone is going crazy for Eddie, Mabel and Princeton's super-tasty cheese toasties. But watch your sandwiches, 'cos evil Echo is plotting some pretty putrid payback! Can the Zoo Crew stop the MASSIVE butt burps before there's total burpageddon? Grab your gas masks and join the party!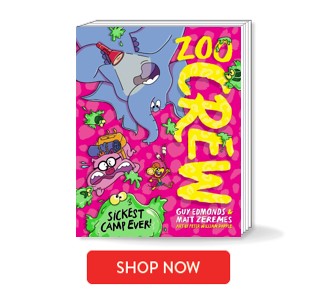 SICKEST CAMP EVER! (ZOO CREW #3)
Eddie, Mabel and Princeton are seriously pumped for school camp. But evil Echo has the GROSSEST, PUS-FILLED plan EVER to get camp cancelled! Can the best buds of Zoo Crew stop an army of multiplying PHAARTLETS from destroying everything?! Grab your camping gear—it's gonna be IN TENTS!
Additional Content and Resources
Copyright © 2019 Scholastic Australia. All rights reserved.